Kira Herzog - USAG Level 10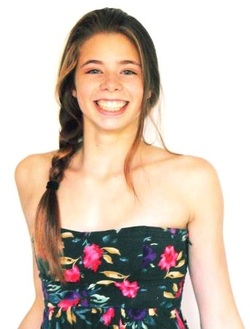 Name: Kira Herzog
Age:
17
Residence:
Mill Valley, California
Coach:
Susie Goodmanson
Parents:
Craig and Tori Herzog
School
: Tamalpais High School
Grade
in School:
12
USAG Level:
10
Favorite Event:
Beam and Bars
Hobbies:
Writing, ballet, biking, writing and hiking
College:
Committed to
Rutgers University
---
Personal Mission
"I am looking forward to a college experience that combines rigorous academic challenges with a strong gymnastics program that will allow me to further progress in the sport. With schoolwork as my first priority, I am seeking a true student-athlete experience. I am determined to advance my skill as a gymnast and help drive my team to higher levels."

Personal Bests
Level Vault Bars Beam Floor All-Around
10 8.825 9.350 9.550 8.800 36.500
9 8.450 9.275 9.100 8.850 35.625
8 8.250 8.100 8.875 8.650 33.150
7 9.000 9.250 8.700 8.950 35.150
6 8.375 8.625 9.025 8.950 34.075
5 8.050 9.375 8.825 9.050 34.325
4 9.000 8.850 8.500 8.750 33.725

Training Video

Projected Competition Skills 2014-2015
Bars: Reverse Hect, blind change-shootover-handstand-toeshoot, blind full-double flyaway.
Beam: Front Aerial-Back handspring-Onodi, switch leap-split half, full turn, side aerial-full dismount.
Floor: 2½ twist, round-off-1½ punch front, front handspring-1½.
Coach's Comments
"I have coached many athletes in my 30 plus years of coaching, from beginner to Junior National Team. In all those years, I have rarely come across a gymnast with such perserverance and a dedication to improving as Kira. Kira came to NBAA in the spring of 2012. During the short time that she has been at NBAA she has made great improvements of her skills, her consistency and her strength. During training in 2013, Kira broke the ball of her foot and was told by the doctor she was not allowed to do floor or vault for 4 weeks. I thought her season was over and that with no vault or floor she would not qualify for Regionals. Yet, Kira never missed a workout, training and competing on bars and beam while conditioning her legs as much as possible so the team could use her scores. When Kira was finally released she worked even harder, never complaining, and qualified to Regional Championships.
I'm very proud of Kira, she has been a great asset to our family and our team wouldn't be the same without her. If you have any questions, please feel free to contact me at any time."
– Susie Goodmanson, Head Coach NBAA