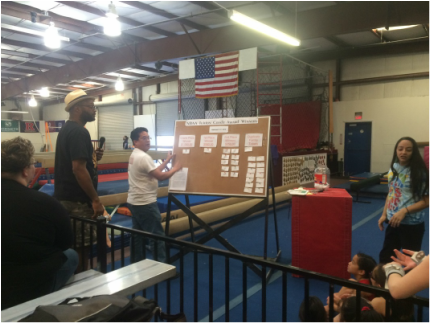 . . . in addition to our dedication to quality and nationally-recognized gymnastics, North Bay is a non-profit organization dedicated to bringing the love of our sport into our surrounding communities? As such, we are heavily reliant on the willingness of our North Bay families to volunteer their time, energy and good-will to keep our gym and its mission alive and thriving, including our on-going fund-raising and community outreach efforts.

As one way to say thanks to our North Bay families, tuition drawings are held twice a year. For every twenty hours of volunteer service, our North Bay families receive an additional entry in the drawing. Grand Prize is a $1000 tuition credit. First prize is $500 and the ten (10) second place finishers receive $250 each. Congratulations especially to the Quintero family and the Cannaday family, this semester's Grand Prize and First Place winners. Congratulations too to all of our second-place finishers.

Most especially, thank you North Bay families and supporters for your continued dedication to the work we do here at North Bay--for the love of the children and the love of the sport.

About NBAA Gymnastics:

NBAA is committed to improving the health and welfare of the children and teenagers of Solano County through the sport of gymnastics. Because gymnastics improves health, physical awareness, motor skills, self-esteem, listening skills, goal setting, and cognitive abilities, our sport teaches skills to children and teens that are essential to making healthy and sound choices throughout their lives.

We are a non-profit organization/public charity, and we provide accessible, youth-oriented gymnastics classes, health education, and self-improvement to Vallejo and its surrounding communities, including Benicia, American Canyon, Suisun, and Fairfield. NBAA Gymnastics also hosts a USAG sanctioned Junior Olympic competitive team and its successful USAG Training Opportunity Program [TOPS].

NBAA is managed by a Board of Directors and Executive Board comprised of community members and parents dedicated to its reputation as an upstanding community service organization. We are organized in accordance with IRC regulation 501(c)(3), TAX ID 68-0471217.