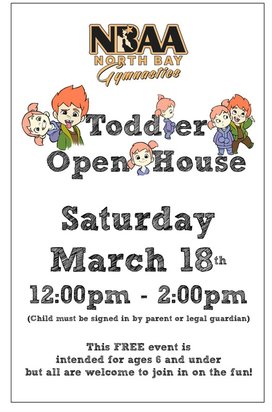 IT'S TODDLER OPEN GYM!
(ages 6 & under only)

Is your child six or under? Then this is the FREE event you've been waiting for!

When? Saturday, March 18th, 12-2 PM

Join us at North Bay Gymnastics for safe and secure fun on our trampolines, foam pit, jump house, obstacle courses and more! All with the aid of our trained coaching staff in a safe and secure environment for your little one(s)!

Come on down and join your community in this amazing afternoon of gymnastics.

Contact us for more information at 707.643.9622. Or, visit us at northbayathletics.com or find us on Facebook!

See you on Saturday!