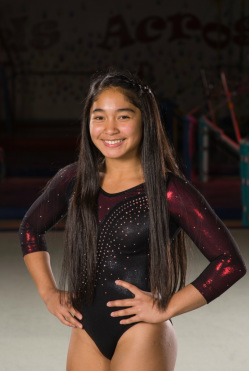 Congratulations to North Bay's own Chelsey Andrada!

​Chelsey has accepted an offer to compete for the San Jose Spartans as a freshman in 2016-2017!

Chelsey enjoyed a very successful competitive season in her final year as a Level 10 gymnast at North Bay. She was a State and Regional Qualifier, including a 3rd place in beam and 5th place on floor at the Region One Championships (including qualifying gymnasts from Northern and Southern CA, Utah, Arizona and Nevada).

Says Head Coach Susie Goodmanson, "I have coached many athletes in my 30 plus years of coaching, from beginner to Junior National Team. In all of those years of coaching, I can honestly say that Chelsey Andrada is one of the most dedicated athletes I have ever met." Chelsey had a perfect season this year--no falls at any meet! ​​

Chelsey has been a part of the North Bay family since she was five years old. Her teammates look to her for her leadership, including her perseverance, her desire to improve and her true love for gymnastics.

"Chelsey is the type of athlete any coach would love to have on their team," explains Coach Goodmanson. "She is eager, a self starter and happy to do whatever assignments given to her. She also makes sure her teammates stay focused and on task in the most positive way."

Chelsey has been named team captain five times by her teammates.

Our North Bay family is so excited for Chelsey as she prepares for this new adventure. We know she will represent the best of North Bay and Vallejo as a Division I gymnast and Spartan!

Way to go, Chelsey! We are so very proud of you!