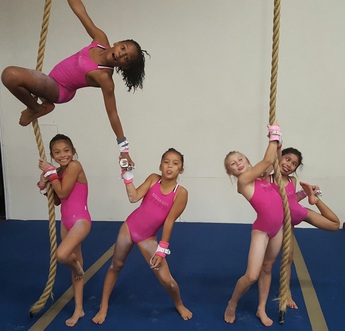 Top: Adrienne (10-years-old) Left to Right: Katy, Sofia, Ella (9-years-old), and Melanie (8-years-old)
Don't let these silly girls fool you because they are fierce competitors!

In June and July, they participated in four separate TOPs physical abilities and skills testing sessions to try to qualify as one of the top 100 gymnasts nationwide in each of their age groups and they did it! The hard work, focus, and training continues as they prepare for National TOPs testing in Huntsville, TX at the Olympic Training Center on October 2-4, 2015.

The results of the National TOPs testing will rank the 100 10-year-olds, 100 9-year-olds, and 100 8-years-olds who had qualified and determine the makeup of the TOPs A and B National Teams. The gymnasts with the top 50 scores make the TOPs A National Team and the gymnasts with the next 60 highest scores make the TOPs B National Team.

Good luck girls!