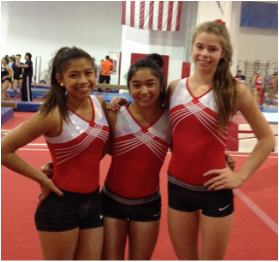 Dear Stars:
Just a little recap about how fabulous our team is doing.
First, our level 10s just returned from the College Showcase & Training in Las Vegas. Chelsey, Kira and Gigi, really stood out showing off their skills to the more than 20 perspective college coaches. It was an amazing weekend.
Our
TOPs team
has also had a lot of recent success with 5 kids qualifying to National Testing at the USA Olympic Training Center in Texas. Mady, Adrienne, Katy and Ella all had personal bests and represented NBAA like champions. Congratulations to Sofia who made the USA National TOPs B Team! Way to go!
More congratulations are in order for our Level 3, 4 and 5
Junior Olympic teams
who have been on the podium numerous times winning individual and team awards at their meets. 8 girls have already qualified for state championships in November. Come cheer the girls on at Hollywood for their last chance to qualify for states. Good luck ladies. I know you will do great!
Our awesome
Xcel team
is getting ready for competition season in January. We are excited for our Silvers who have choreography on November 9th @ 11:30am.
Our ever growing
Optional team
is very strong and preparing for their season too. The beam sleepover is on Friday, November 14 at 8:30pm. Remember, it's yum yum potluck style, so bring food to share. There will be no practice on Saturday after the sleepover.
Keep your eye out for possible schedule changes since our team is growing so fast. Keep up the great work girls! Way to go. I love our team!
Coach Susie