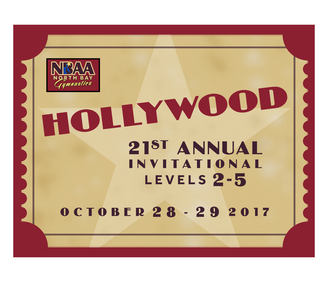 Lights, camera, and head-over-heels action...it's that time of year again!

On October 28-29, 2017, North Bay will host over two dozen clubs and 500+ competing Junior Olympic gymnasts at our 21st annual Hollywood Invitational! The 2017 Hollywood Invitational is North Bay's long-standing and well-established compulsory meet for the fall compulsory season. This off-site meet is located at Jesse Bethel High School in Vallejo, CA, tucked in-between the Bay Area and the Napa Valley. The 2017 Hollywood Invitational is open to competitive Junior Olympic levels 2-5.

​​Join us to enjoy high quality competition as we pay homage to Hollywood and film in this fun-filled thematic meet.

More information can be found on our website, including Session Summaries for both days. See you then!